Aluminium - Sunflex SVG20, 30 & 83 Sliding Door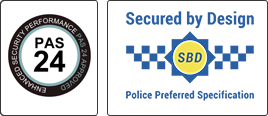 Our industry leading and virtually maintenance free SVG sliding door systems offer a dynamic look to any property, maximising light into the room and releasing the full potential of your view. A slim sightline of 83mm is offered with the SVG83 or you can upgrade to the very sleek SVG20 or SVG30 with an incredibly narrow 20 or 30mm sight line. The SVG sliding door system is a highly versatile with almost endless design capabilities, including flush floor detail, open corner designs, movable corner posts and pocket door options. With the freedom to create doors up to 20m wide the possibilities are endless.
SVG20/30
Ultra Slim 20mm or 30mm wide mullions.
No need for external reinforcing profiles.
Panel widths unto 3000mm.
Max height 2800mm.
Flush stacking panel option.
Flush Track option.
Extremely versatile. Pocket doors, corner doors, moving posts, glass to glass corners etc.
SVG83
83mm wide mullions.
Panel widths unto 3000mm.
MAX height 3200mm.
Flush stacking panel option.
Flush Track option.
Extremely versatile. Pocket doors, corner doors, moving posts, 

glass to glass corners

etc.
Features & Benefits:
Contemporary Appearance
Modern slim line profiles
Contemporary square profiles and glazing beads.
Option for ultra slim 20mm

(SVG20) 

or 30mm mullions (SVG30).
Matching windows, doors and bifold doors available. 
Designer stainless steel handles available.
Thermal Efficiency & Weather Tightness
Officially tested and certified to ensure they really do keep bad weather outside. One of the most weather tight multi track sliding systems available.
Centre pane of 0.7W/m2K = Overall U-Value of 1.4W/m2K.
Centre pane of 0.8W/m2K = Overall U-Value of 1.5W/m2K.
Centre pane of 1.0W/m2K = Overall U-Value of 1.6W/m2K.
Centre pane of 1.2W/m2K = Overall U-Value of 1.8W/m2K.
Accommodates a glazed unit thicknesses of 28mm, 30mm, 36mm or 38mm. (36mm or 38mm only for the SVG30).Weather ratings vary dependent upon configuration but the system has been tested to achieve up to;
Water tightness Class 7A, 300Pa 
Air tightness Class 3, 600Pa
Wind loads Class AE, 2400Pa
A good U-Value does not mean a door keeps out the wind and the rain. Make sure you check out a doors weather test results before you buy.
High Security
Five-point lock including mushroom headed cam locks and an additional centre hook lock providing excellent security.
British Insurance Standard and BS3621 compliance.  Five-lever Euro profile cylinder.
Internally glazed preventing the glass being easily removed from the outside.
If not required ask for no key lock to the outside of the doors. For a sleeker look and less opportunity for any potential burglar.
One piece lock keep provides a neater appearance than conventional individual keeps as well as ensuring trouble free operation.
Anti-lift blocks prevents the panels being levered from the tracks making the old security concerns with sliding doors a thing of the past.
Full height thermally broken claw lock on each panel at every meeting section ensuring the panels cannot be pulled apart from each other.
Toughened safety glass used as standard. Toughened glass units used as standard which are hard to smash but can be upgraded to laminate security glass on the outer pane which then achieves PAS24 the requirement for the latest document Q building regulations.
Built In Design
Capable of opening up to 20m in one run.
Glass to glass corners, moving corner posts, pocket doors, extended track systems available.
Panel widths from 800mm up to 3000m.
Panel heights from 1200mm up to 3200mm. (Maximum height for the SVG30 is 3000mm, SVG20 is 2800mm).
Do not exceed 2500mm in both width and height as the maximum panel weight is 250kg.
Bottom track can be recessed in to the floor for a zero up stand/step detail without reducing weather tightness.
Light weight, smooth and quiet operation with our adjustable double wheel running carriages removing the need for a lift and slide operation which would restrict you to only one sliding panel in one direction.
When panels are stacked open they can be flush stacking if no external handles are required. We design each panel with a slightly different size to offer this very neat detail.
A plant on panel attached to the outside of the track can offer a 75% opening when three panels slide behind this on a triple track.
Colour matched trickle vents available which are neatly incorporated within a 42mm add on at the head. 
Versatility
100% clear opening with panels sliding on an extended track on the inside of your wall offering the 'wow factor' with your doors open or closed. When you are planning a false wall to cover this extended track we can supply a colour matched closing plate to neatly close off the gap between the panels and your false wall.
Completely open up the corner of your room to create a unique look to your project. If you can support the roof above we can couple the system together in the corner with our moveable posts usually supplied at 90° but other angles can be accommodated.
If your best view is from the corner of the room our sliding doors can be coupled by frameless corners. A unique way to join two sliding door systems together and maximize your view.Versatility
Wide Range Of Finishes
Frames
Three standard frame colours, Anthracite Grey RAL 7016 Matt, Graphite Black RAL 9011 Matt, Slate Grey RAL 7015 Matt.
Choose from over 200 available frame colours including brushed steel, textured, woodgrain and extreme marine protection.
Dual colour finish available (different internal and external colours).
Handles and hinges
Offered with a range of options from subtle colour coded D handles designed to blend in to the frame or very modern looking stainless steel pull handles which become a feature of your doors. The Stainless steel pull handles are supplied in straight or cranked designs depending upon the configuration of your doors.
If you choose the lift & slide option your doors will be supplied with a specific colour coded handle that turns to enable the doors to be held in position. 
Marine and swimming pool environment finishes 
We recommend a marine treatment if you are within 5000 metres of the coast or around a swimming pool/chemical environment. Stainless steel handles would not be suitable for this location.
Threshold Options
Bottom track can be recessed in to the floor for a seamless connection between inside and outside. Unlike other systems this flush track does not reduce the weather tightness of the doors.
To make it easier for the internal floor to finish flush with the bottom track we supply an internal flush floor detail. Leaving a nice finishing detail for the floor and ensures there is adequate clearance between the sliding panel and the internal floor.
A sill section with varying projection options can be used below any of these tracks. Please see downloads for the section details.
Handle Options
The SVG20, 30 and 83 are available as standard with a D-shaped handle, colour coded to match the frame of the doors. We also offer a stylish stainless steel feature handle for a modern and contemporary look, or alternatively you can choose a recessed handle that is set into the frame of the doors. If you choose the lift and slide option for your doors they come with a specific colour coded handle that turns to enable the doors to be held in position.
Gallery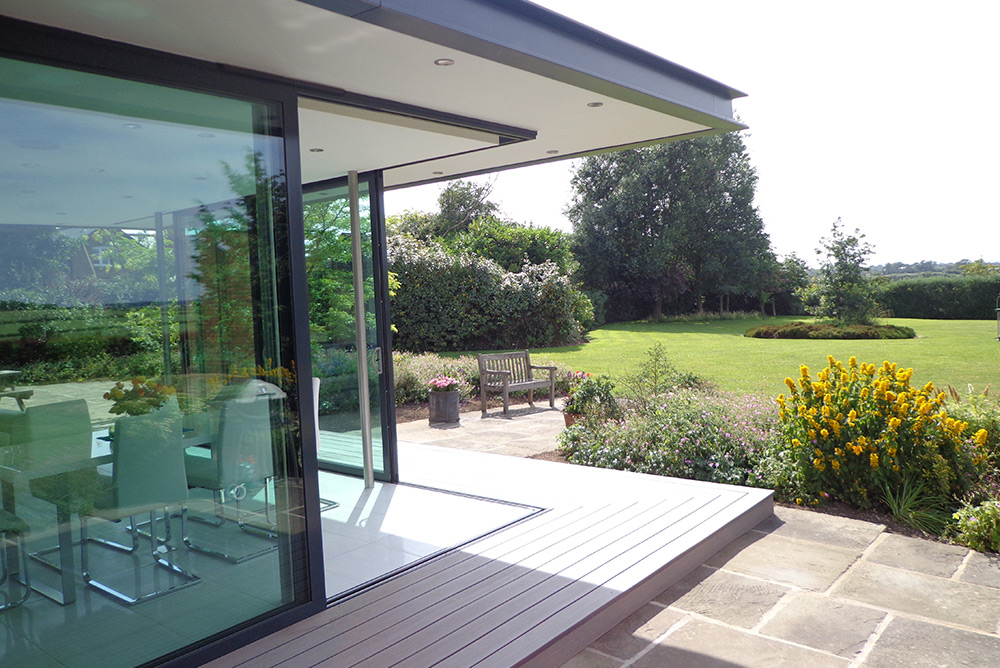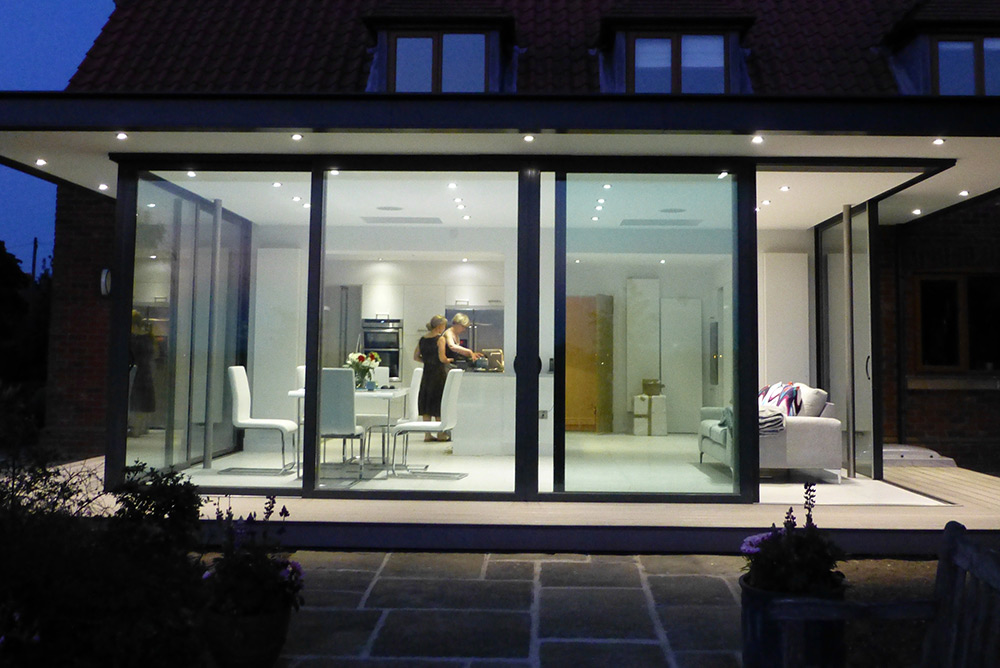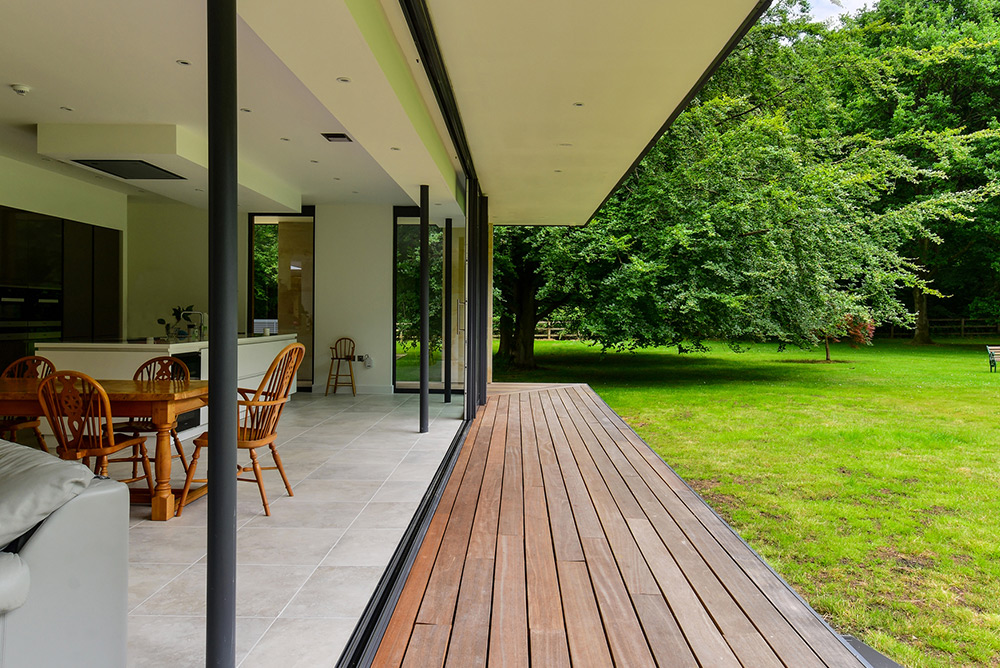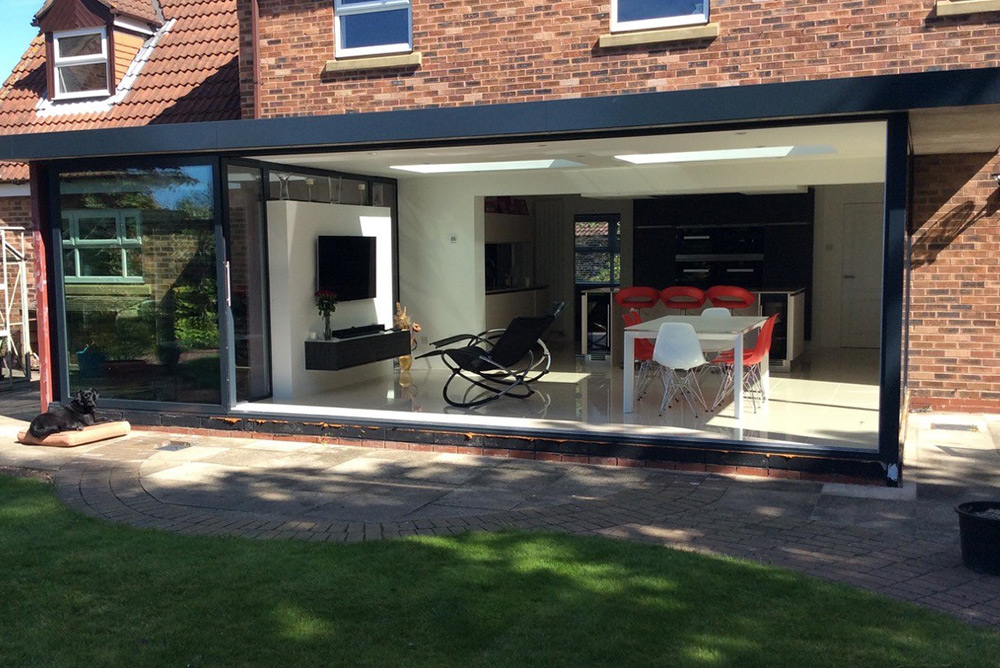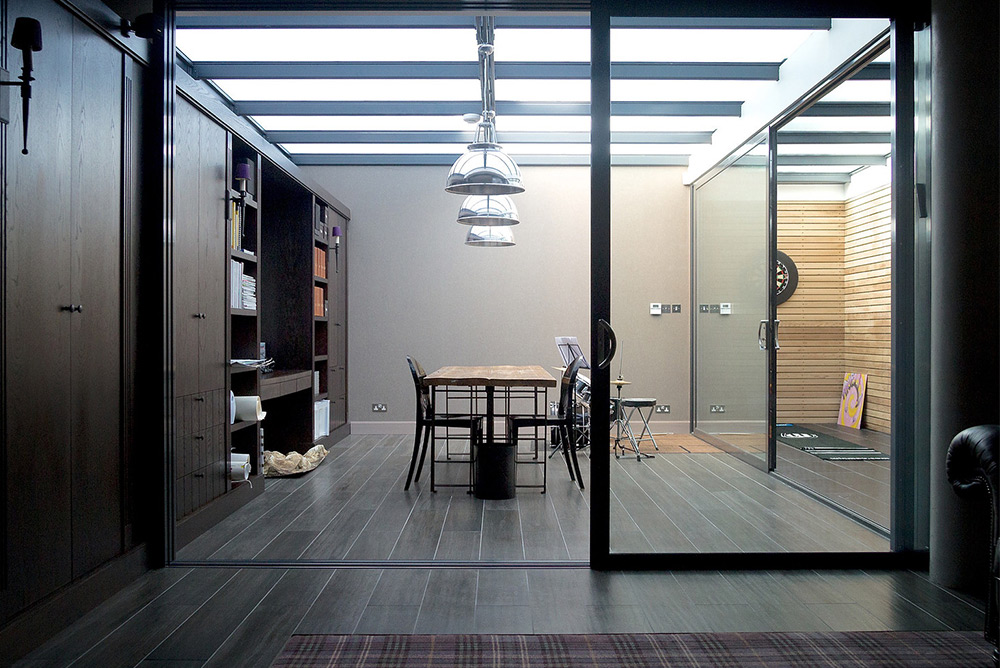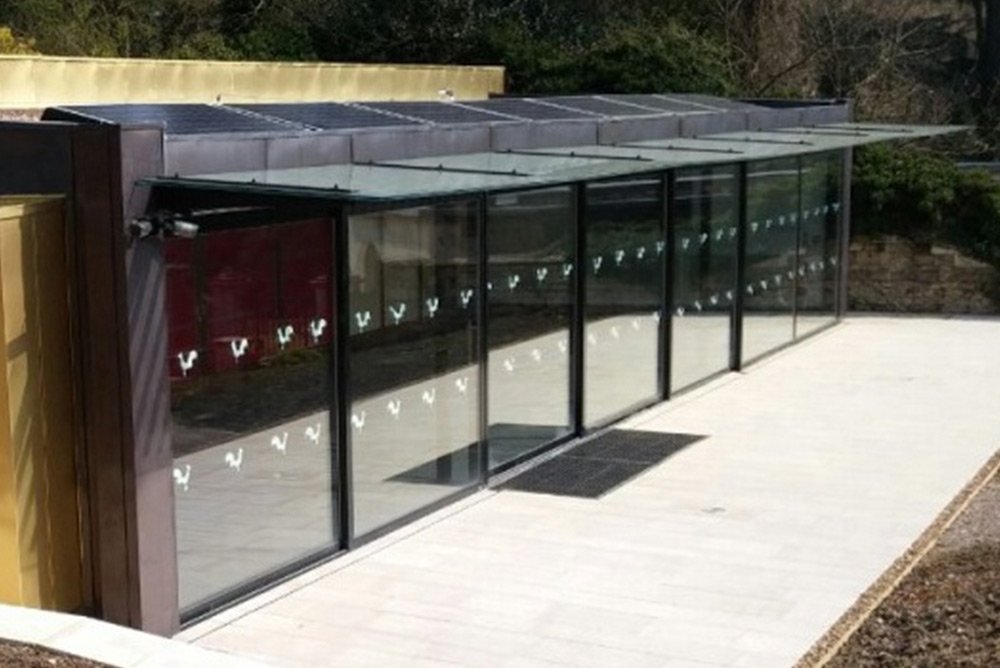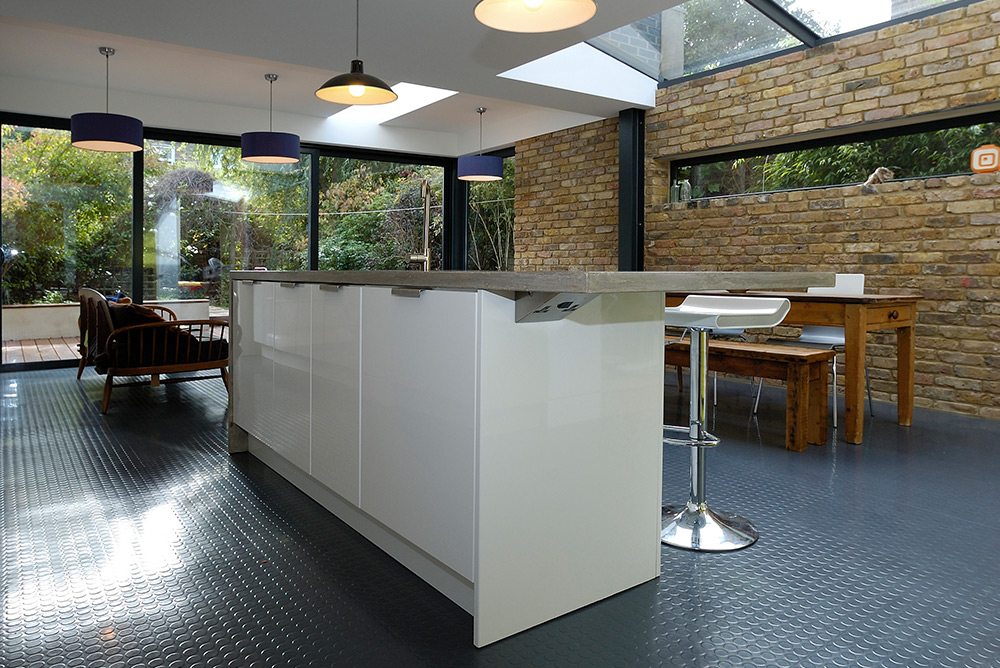 Technical