All Glass - Sunflex SF20
The Sunflex SF20 is a frameless glass door system which has a slender top and bottom aluminum rail. Choose from one panel sliding on an extended track, or up to 12 panels all sliding on a six track system. The versatility of this system enables the panels to slide from one side or to both sides creating additional opening options to your room. On opening and closing the sliding doors, each panel collects the next panel for added convenience and effortless operation. The bottom running construction enables large openings to be achieved without additional supports.
Features & Benefits:
Application
Garden room/winter garden
We all love sitting out in the gardens, but we spend very little time participating in this pastime due to our unpredictable weather. But what if we could increase those few days when we do to all year round.
The SF20 is ideal for a garden room as when closed, this system provides you with unobstructed panoramic views. Allowing you to sit and enjoy your garden, even on the most cold and blustery days. And yet still retain the ability to slide the glass wall away to fully enjoy those hot days, and carry on in to the evening when it gets colder. Simply slide the system back to continue enjoying your garden space.
Internal partitions
Whilst creating the glazed extension of your dreams you may wish to have the option of closing this off from the main living area. Alternatively if you are creating a kitchen/diner an option of separating the kitchen certainly has its benefits. The sliding SF20 would be ideal as it comes with a bottom track of only 11mm high which can be recessed in to the floor for an uninterrupted floor level.
Balcony enclosures
A balcony area can be enclosed making this an extension of your indoor living space. A balcony can offer the best views from your property, but the variable climate we live in restricts the time you spend on there. A frameless SF20 surrounding the top of your balcony wall not only helps to keep out the cold wind and rain. But also reduces the surrounding noise making the balcony feel more part of your home. This glass enclosure can then be completely opened up to take advantage of those warmer times. 
Built In Design
The small top and bottom frames can be supplied as standard in any semi-gloss RAL colour, DB703 textured or silver anodised. Other colours can be sourced if required.
Each panel can be left without a vertical seal to maximise the transparency of the doors or alternatively to offer a better seal against winds and for better sound insulation there are options of slim vertical aluminium strips or clear PVC strips attached to the glass.
Bottom running carriages feature a height adjustment up to 5mm for ease of installation and to ensure the smooth running is optimised.
The top track has height compensation up to 20mm for ease of installation and to allow for slight building movement or deflection.
Supplied with toughened glass either 8mm or 10mm, depending upon height and requirements, available in clear, obscured or satinated. Other patterns available including bottom half obscured and top half clear.
Panel widths start from 300mm up to 1600mm wide. Panel heights are from 500mm up to 2600mm. Each panel can weigh up to a maximum of 80kg. 
Aluminium side jambs are an option at each side. These can offer a good closing detail and hide an uneven surface. Alternatively no side jambs or brush gasket attached to the end of the glass panel which leaves a very clean look when the panels are opened.
Tests
Sound reduction with 10mm glass & sealing strips. DIN EN ISO 10140-2 Rw = 17dB.
Sound reduction with 10mm glass, without sealing strips. DIN EN ISO 10140-2 Rw = 12dB.
Measurement of deflection Class EN 12211/12210 (10mm glass: tested to +1600Pa and -1600Pa).
Wind suction class 4 according to EN 12211/12210 (10mm glass: tested to +800Pa)
Safety test class 4 according to EN 12211/12210 (10mm glass: tested to +2400Pa).
Handles & Locks
A twist lock, when fitted on the bottom track, holds the panels into place. Optional key lock.
Recessed stainless steel handles allow the panels to stack closer together. Other options available. 
Black plastic protruding handle available inside only or both sides.
Stainless steel protruding handle available inside only or both sides.
Perspex protruding pull handle, available inside only or both sides, creates a subtle look against the frameless glass.
Aluminium latch handle secures the panel in to the side jamb without the need for a latch in the bottom section.
A large key locking plate provides the most secure option, albeit the least subtle, with a five-lever Euro profile cylinder enclosed within a large metal box attached to the glass.
Versatility
100% opening can be created by utilising extended tracks. From one panel on a one track system, up to 12 panels with six panels sliding each side on six tracks.
Create a unique look to your room when the SF20 sliding panels join together in the corner. When closed this meeting detail is very slim and to open the panels slide away from the corner leaving a completely clear open design.
Threshold Options
The sloped track is available from two to six tracks, supplied with optimally shortened rail lengths and drainage making this suitable for external applications and has an anti-slip coating making this safe to walk over.
The 11mm flat track, is available from one to five tracks, supplied in silver anodised for durability. This can be recessed in to the floor to offer a seamless threshold and horizontal wings can be supplied which overlap the floor on both sides for a neat finishing detail. If this track cannot be recessed in to the floor the wings are supplied at a 45° angle providing a slope to the track which complies as a low level track for DDA compliance (Document M).
Gallery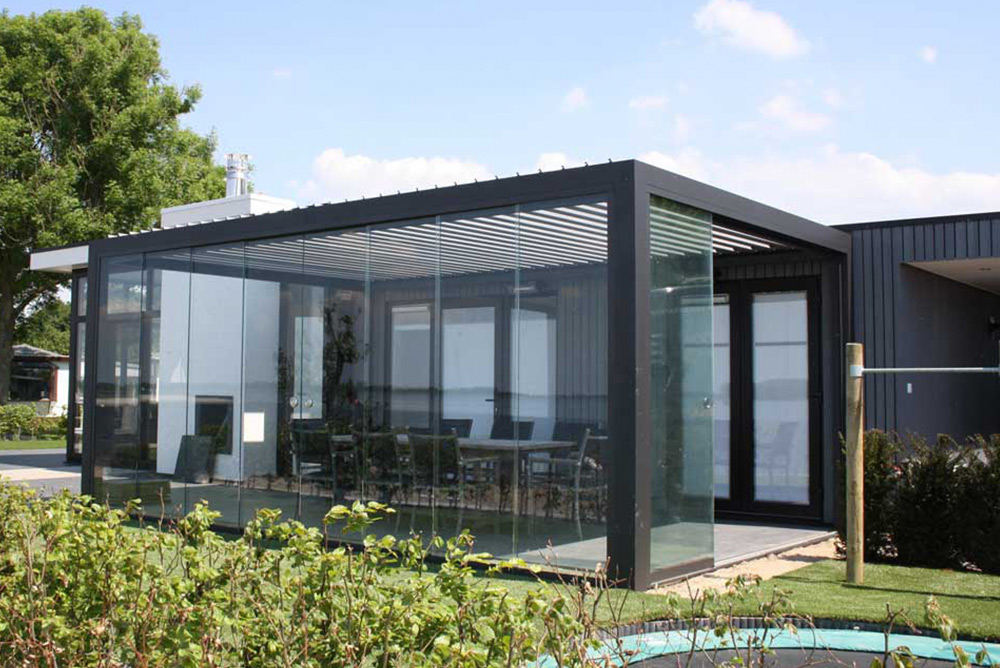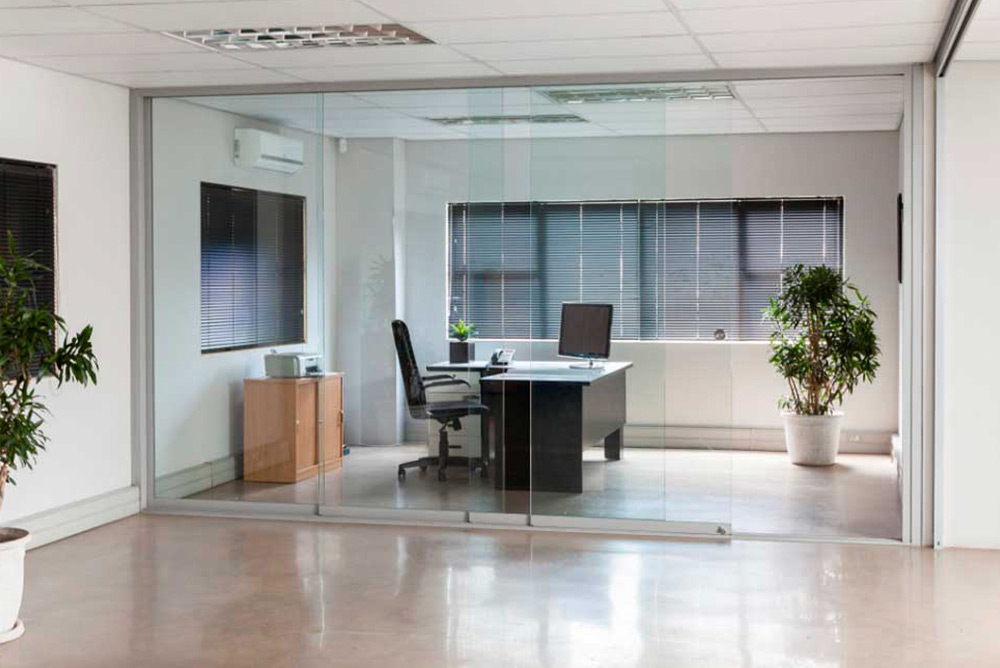 Technical