Internal - Sunflex SF45 Bifold Door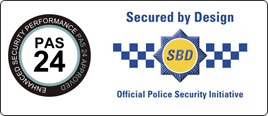 When thermal performance is not important you can save money by using our internal and commercial bifold doors. Ideal as a room divider, garden space enclosure or for commercial premises the SF45 offers the same quality and design as our other industry leading bifold doors without the cost of a high thermal efficiency.
SF45
Slimline and sleek design, only 45mm front to back.
115mm panel to panel sightlines.
Maintenance free.
Panel widths up to 1200mm.
Panel heights up to 3500mm.
Features & Benefits:
Contemporary Appearance
Narrow sightlines. 
Modern slim line profiles and contemporary square beads. Matching windows, doors and sliding doors available. 
Specially designed handles sit in line with the frame to provide an uninterrupted view through the glass.
Framework assembled using patented internal corner blocks and mitred corners for a seamless profile.  unlike cheaper but jointed profiles.
Weather Tightness
Officially tested and certified to ensure they really do keep bad weather outside.
Both systems offer
Acoustic performance tested at Rw=36dB. Further upgrades available.
Water tightness 900Pa (Class 9A).
Air permeability 600 Pa - BS EN 12207 (Class 4) with our standard weathered track.
Resistance to wind load 1600 Pa (Class A4).
EPDM gasket around the door which is an extremely durable synthetic rubber. Offering a long life weather tight seal.
Double rebated top and bottom tracks offering a tight compressed seal.
High Security
Secured by Design certified. Designed and manufactured to police preferred specification.
British Insurance Standard and BS3621 compliance.  Five-lever Euro profile cylinder.
Multipoint locking system.  Hidden top and bottom shoot-bolts with additional side locking points and latch on lead door panels.
Internally glazed preventing the glass being easily removed from the outside.
Hinge pins secured by internal grub screws ensuring panels cannot be separated.
Slim 8mm gasket between panels to help against panels been levered apart by potential intruders.
Toughened safety glass used as standard.  Laminated security glass, solar control glass and many other specs available.
If not required ask for no key lock to the outside of the doors. For a sleeker look and less opportunity for any potential burglar.
Require more security?
Unique to Sunflex the top and bottom shootbolt locking can be doubled with our twin lock upgraded. The locking system of one panel is internally linked to the adjacent panel providing four locking bolts rather than two. This upgrade is not available with any other manufactures' folding door.
Built In Design
German designed, engineered and manufactured.
Bottom running system with glass fibre reinforced running gear concealed within the track.  Fully adjustable for smooth running. 
Movable corner post options of 90° or 135°.  Open up the entire corner of a building or two elevations.
Faceted and curved door sets possible with up to 10° between panels.
Built in tolerance to cope with expansion and contraction.
Trickle vents (colour matched) of 2500mm2 or 5000mm2 can be incorporated within a 35mm add on profile above the top track.
Child Safe
Panel catch - Unique to Sunflex bifold doors the locking panel catch is provided when there is an odd number of panels. The catch holds single access door on to the next panel and when the doors are stacked open, preventing the lead door from being detached and offering peace of mind in windy conditions. Also prevents unwanted use and promotes correct operation of the doors for effortless operation.
Stacking clip - Unique to Sunflex bifold doors the stacking clip, hidden in the top track, holds the doors open to ensure that the maximum opening is achieved, the doors do not start to close in the wind and helps prevents unwanted use by small children.
Finger cushioning gaskets situated on the edge of each door. This double gasket seal provides a cushioning effect if fingers were to be trapped. Making these doors safer than conventional doors.
Wide Range Of Finishes
Frames
Five standard frame colours, Silver Anodised EV1, or in semi-gloss: Anthracite Grey RAL 7016, Grey Aluminium RAL 9007, White Aluminium RAL 9006, Traffic White RAL 9016.
Choose from over 200 frame colours available including brushed steel, textured, woodgrain and extreme marine protection.
Handles and hinges
Handles are designed to almost disappear when colour matched to the frame or can be made a feature in stainless steel. Plastic D handle used at the hinge to pull the doors closed.
Subtle hinges are in line with the black gasket of the doors making the standard black hinge a popular choice. Alternatively these can be colour coded to the frame or stainless steel.
Marine and swimming pool environment finishes 
We recommend a marine treatment if you are within 5000 metres of the coast or around a swimming pool/chemical environment. Stainless steel handles would not be suitable for this location.
Threshold Options
Weathered track
With double rebates offering peace of mind even in the most exposed of locations. One of the only bifold doors that can offer a double rebates on the bottom track which is why we achieve enviable weather test results ensuring that the outside is kept outside. On outward opening doors the internal finished floor can be level with the top of the track and then the step down to the outside can be as small as 3cm.
Non weathered flush track
Doc M compliant track recessed in to the floor with no rebates. Using a twin brush pile and a nylon strip for a virtually seamless connection between inside and outside. Whilst this is a very subtle detail it is recommended for a sheltered area only as there is not a continuous seal and reduces the weather rating with no guarantee against wind and water ingress which is a compromise for this contemporary look. A slope away or drainage channel is then recommended on the outside to prevent any water ever pooling up against this track.
A sill section with varying projection options can be used below any of these tracks. Please see downloads for the section details.
Gallery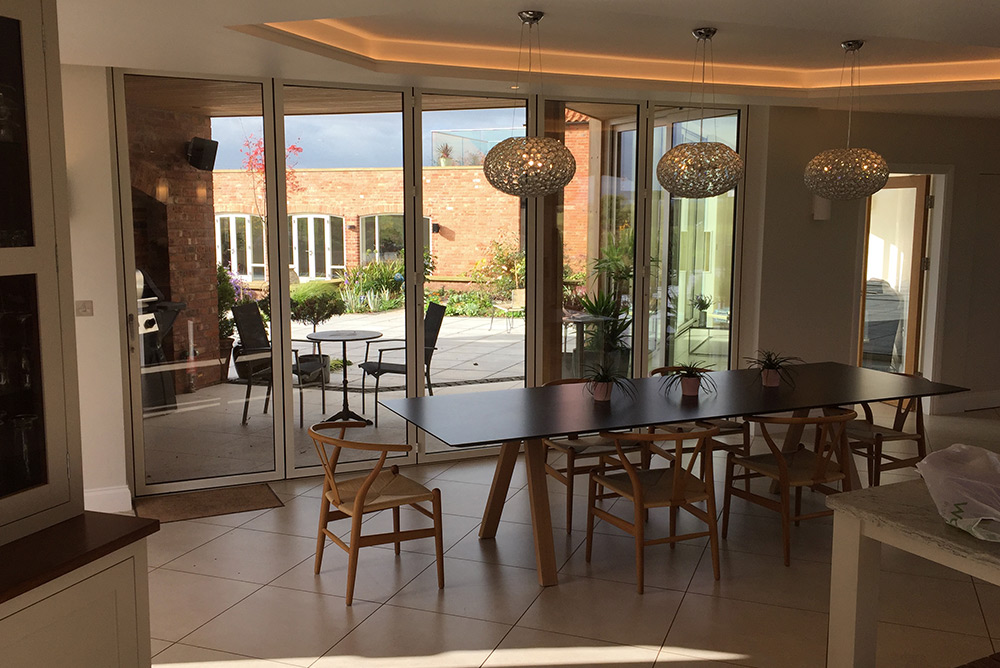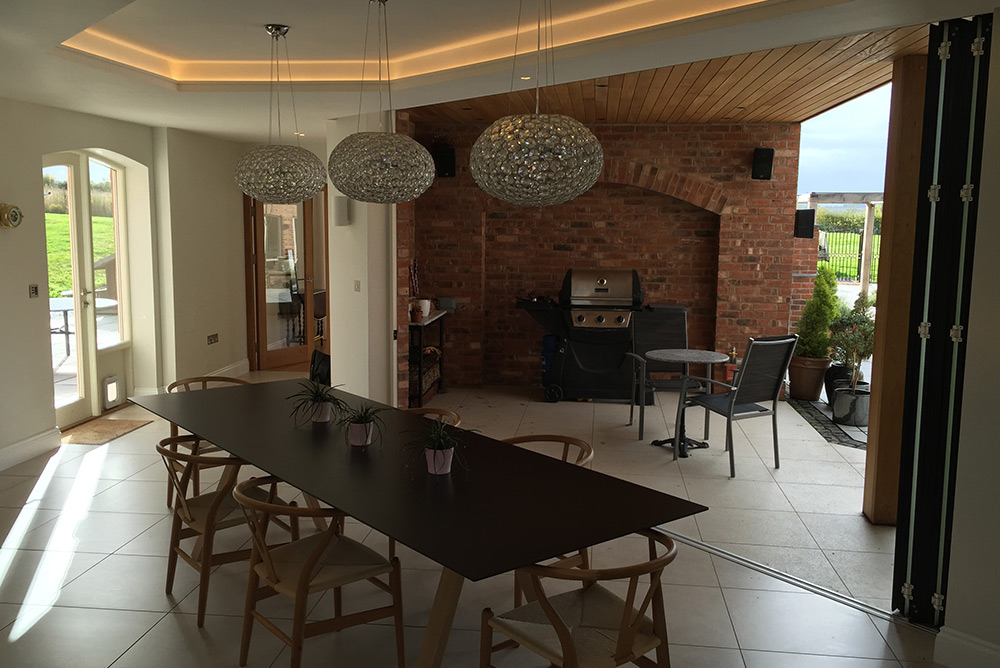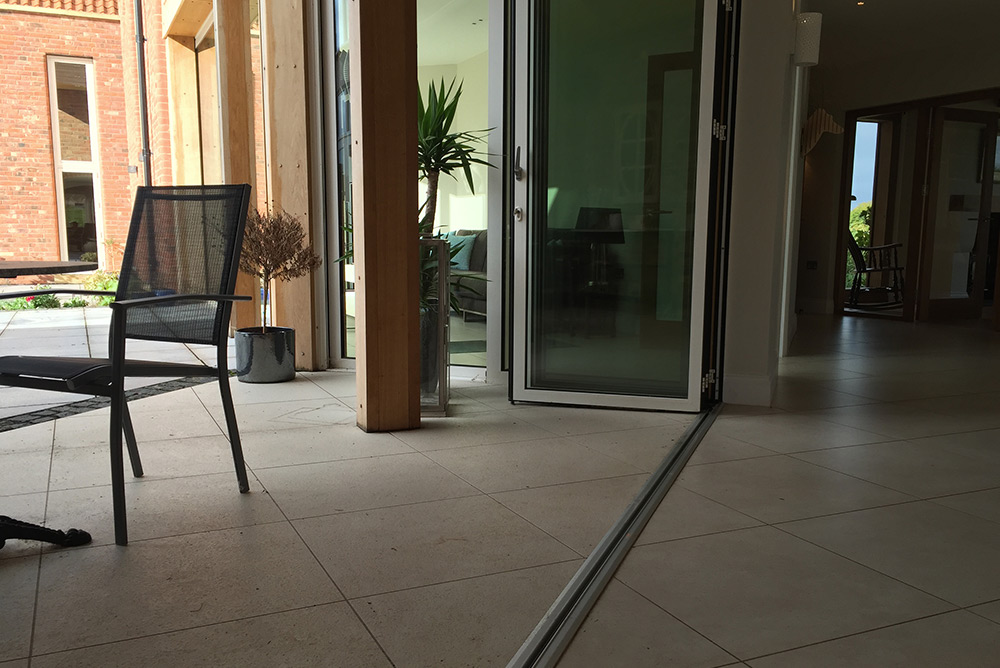 Technical